Hello Fire Warriors
Many new things have been thrown out by the CPRewritten team, showing a tease for a long-awaited party back! And a new Easter Egg-related Pin, plus some clothing which we will be seeing in the new catalog very soon! Click the "Continue Reading" for all the exciting news!
1) Mountain Expedition Comeback!
The Mountain Expedition party was an old CP party that was later reworked by CPRewritten and later on we got the Festival of Lights that was a transcript of the original party. The game didn't have many of this kind of party so it's pretty much rare, and now it might be happening once again!
I've talked about this topic in my earlier post, about the mountains in the back for the April Penguin Style Cover and how i said it "might" be making a return. Well, one of the Admins recently in their discord said:
"some Spring clothing and some clothing for some high views"
"For some high views" might be referring to a glance in the mountains or somewhere high up, according to the team. It indicates that there could be an event related to mountains, potentially something similar to the Mountain Expedition, later this month although the precise details remain unknown. Please note that this is not official yet!
Here are some photos and rooms from the Mountain Expedition party:
2) Easter Egg Pin!
In twitter, a fan of their game asked if there will be a new pin coming soon since the Noir Party is gone now, They confirmed that there will be one releasing very soon. Another fan requested if it is the Easter Basket Pin, they said it will be releasing with the new catalog that will be out very soon. So we will be getting the new Catalog with the Easter Basket Pin veery soon!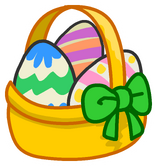 3) More Catalog Leaks!
Further Clothing items have been shown before the release of it! Here is what we will be getting:
It looks like that at least four hoodies will be returning, one is black, pink, purple, and green. There also appears to be some indication of a summer-themed hairstyle on the right page too with some flowers on top of it.
---
That's all for today's news, hope we have informed you on what we will be getting for the future of CPRewritten!
If you like this post, please tell us what you think about it in the comments below!
Filed under: CPR News